Ashtray Fun With A View - BRANDNEW!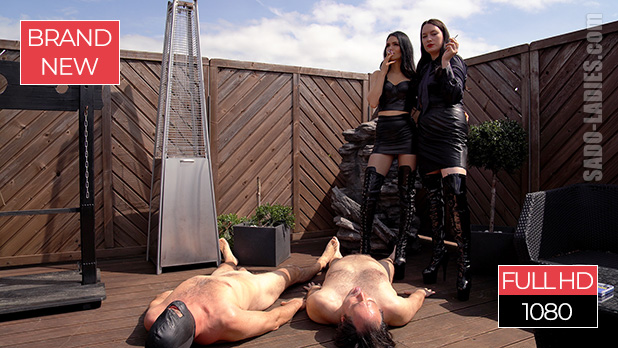 A sunny day on the roof terrace, 2 fantastic ladies and 2, let's call them that, somewhat worn-out gentlemen with ambitions to be trained as an ashtray! But it's not as easy as it sounds! After all, the two trainers are Miss May and Lady Jolie Berrie. It's going to be tough, really tough.
Ashtray training is a strict program. Full of abjection, humiliation and, above all, pain. And if you want to be a good ashtray, you also have to be able to deal with embers, heat and dirt! Here the training is not started in small steps. At most, with steps over the dumplings and the battered bodies, but that would only serve to amuse the two ladies. It's about to start here, with a wide open, greedy mouth craving for hot ashes in the throat, and bulging testicles, which longingly await the hot tip of a smoldering cigarette! Burns on the prick are the medals of the finished ashtray and a sign of passing the exam! As always, registration forms can be found online! But don't forget, it's erased here with spit and contempt!
---
Download MP4 FULL HD Version

Ashtray Fun With A View
07:17 min, 520 MB, MP4 FULL HD
English Language
To download the clips simply right click into the thumbnail and choose "Save target as...".