Lianes Play Part 4 (final) - BRANDNEW!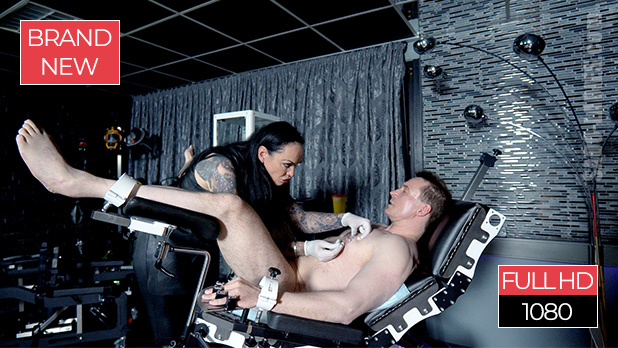 Are you afraid of needles? Are you worried about medical procedures? Or are you one of those people who, like our slave, sit expectantly on a gynecological chair and even look forward to the treatment? It's amazing what our slaves, or rather Domina Liane's slaves, have to endure. For us it was so much that we absolutely had to pack it into 2 parts.
Too much pain and cruelty to endure in one piece. We are also pretty sure that the world's dictionaries need revision. There are just not enough words to describe all of the torment in a dedicated way. What is divided into 2 fantastically cruel videos here is a mélange of pain and torture. Domina Liane knows how to build a tension curve. And your slave has no chance to build a curve. The little worm still gets enough attention. Did he have any idea what to expect when sounding? Clear. He already knew the little tiller. But what our Domina Liane is introducing into his urethra is enormous and gruesome in size and length. That his nipples get pierced? A matter of honor for a steadfast slave. He could have guessed it. Everything was there. He had his chance. Not to escape! The doors are always locked. But he could have begged for mercy. It's too late now and he's shivering on the chair and his red claret runs from all wounds. His nipples somehow look like red candles with the wax dripping down. Our Domina Liane has a keen sense for good decoration!
---
To download the clips simply right click into the thumbnail and choose "Save target as...".