The Dissatisfied Wife Part 1 - BRANDNEW!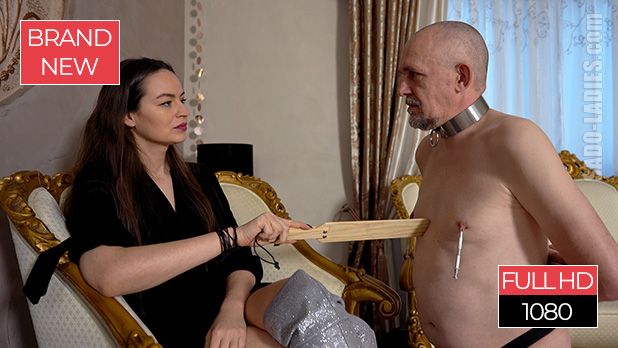 Oh my goodness, we always black out when we see what our Lady Iveta does with the nipples of the slaves. Somehow, we always feel like we ask ourselves how that feels. We recently told a trainee that he should twirl his nipples himself. We haven't seen him since then.
Either he's still twirling because he thought it was so cool, or he's looking for a new job far away from all the pain. However, we want to limit ourselves to our scenery here and not shed a tear for any employee. Let's focus on the kicks in the crown jewels and the slaps on the slave's bottom. That's what we want to see. Even if the fearful gaze keeps wandering over the tormented nipples. We don't know exactly what made our Lady Iveta so upset here, but the wooden paddle she was using looked like it would break at any moment under the massive blows. For sure she only buys quality and the slave's ass was already soft as butter.
---
Download MP4 FULL HD Version

The Dissatisfied Wife Part 1
07:01 min, 479 MB, MP4 FULL HD
German Language
To download the clips simply right click into the thumbnail and choose "Save target as...".