The Meathammer And Other Nasties - BRANDNEW!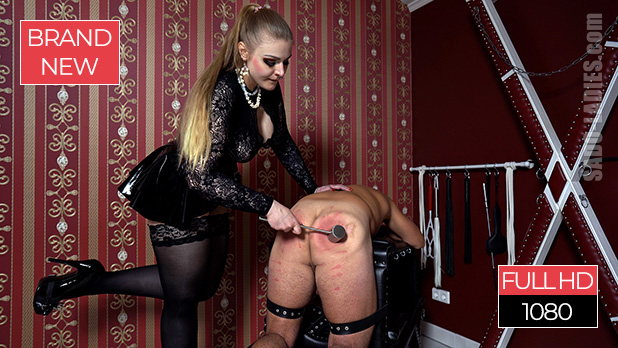 At some point we'll get to the point where we can sell schnitzel. As you know, we always have enough tenderized meat on offer. Our fantastic ladies alone take care of that. In this case, it's Lady Selina Morgen who gives the buttocks of this slave the last rites.
It is always wonderful to see the simple household remedies you can use to elicit the loudest scream from a slave. For sure you have to tie him up well beforehand. The common slave is sometimes a flight animal. Once separated from the herd and stretched forward over the bench, this reflex wears off very quickly. (Provided, he is fixed firmly enough) Then you can even beat his buttocks from soft pink to crimson with a meat mallet. No escape reflex. Only screams of ecstasy or pain. We don't want to make a big difference. The main thing is that he screams.
---
Download MP4 FULL HD Version

The Meathammer And Other Nasties
12:40 min, 916 MB, MP4 FULL HD
English Language
To download the clips simply right click into the thumbnail and choose "Save target as...".