Johannas Play Part 3 - BRANDNEW!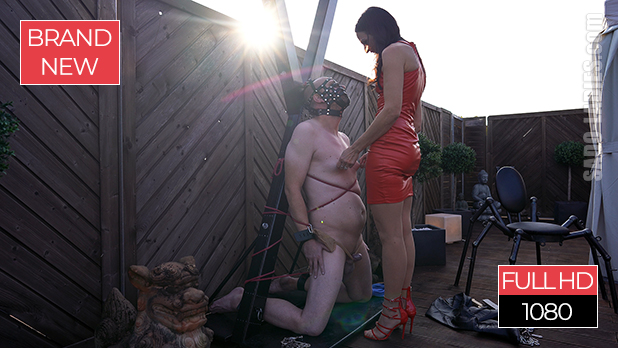 It's really quite simple. The mistress sets tasks and these must be fulfilled to her fullest satisfaction. But one or the other slave may not take it that seriously. What is going on in the mind? We don't know and of course we would be very different. Because to get into the destructive hands of Lady Johanna. No thanks. Whereby. Nevermind, that's another topic.
What we are offered here is on the one hand a splendor and on the other hand terrifying. Depending through whose eyes you look at the whole thing. But first we have to say that the slave had a fair chance. Similar to a fly that flies into a spider web. Everything that is processed and maltreated here. We have seldom seen the scrotum and penis stretched so tightly with ligaments. The human body is a marvel. That such a thing is possible. Well, with Lady Johanna, yes. Kicks against the scrotum and penis? Not commonplace? Laughable! Strikes on the bare soles of the feet here it is perfected. And the fantastic thing during this incredibly long and excruciating session? The slave seems even more grateful afterwards than before. Lovingly he kisses the floor on which his mistress Johanna walked before. Every slap in the face and every drop of spit is more of a motivational aid. Our Lady Johanna can motivate. And that should be enough motivation for you to look at all parts.
---
To download the clips simply right click into the thumbnail and choose "Save target as...".