Tease, Denial and Toilet Games Part 2 - BRANDNEW!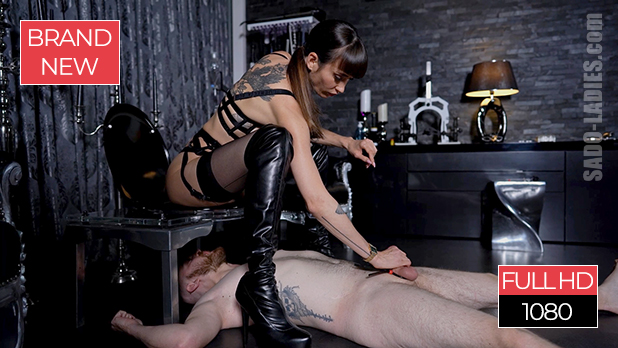 Oh, jerking off a bit is something great. Rub the willing dick until redemption occurs in the form of a heavy, wet and sticky orgasm. Sperm! A dream. Quasi the icing on the cake under the body fluids.
Stupid only when it's Miss Yuna's turn. She likes to jerk off semi-rigid cocks, but the finish? You have to earn that first. Rather, she spreads a few strokes to loosen up the mood a little. In addition, the bladder is pushing again. It's the sheer stress during the sessions. There is simply no time to go to the toilet. It does not matter anyway. The good Lord God created the slaves for nothing else than a possibility to relieve oneself. In the end, as always, everything will be fine. Miss Yuna was able to relieve herself and the slave goes home unsatisfied.
---
Download MP4 FULL HD Version

Tease, Denial and Toilet Games Part 2
06:37 min, 471 MB, MP4 FULL HD
German Language
To download the clips simply right click into the thumbnail and choose "Save target as...".