Lesson For The Horny Slave Part 4 - BRANDNEW!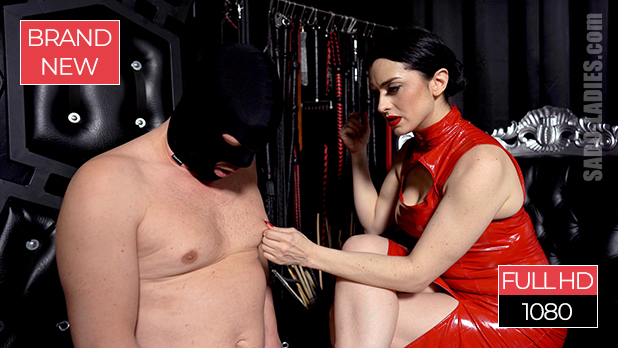 What a chance. What a fantastic and great opportunity for this slave! Mistress Bella Lugosi is apparently wearing her "charity pants" today. Well, strictly speaking it's a "charity and I'm in a generous mood mini dress" made of red latex, but we don't take it that seriously.
But let's get back to the slave. We don't know his name, but let's just call him Wally or Goofus. Why? Well, the story is told quickly and really doesn't put this guy in a good light. We don't want spoilers, actually we do, but that's the thing. Someone gets a chance to lick, suck and knead this incredible lady's most sacred thing and he don't do anything about it. But hold on tight. The best is yet to come. After spanking him properly, she starts jerking him off. Of course, he can finish it himself. So, he kneels over her adorable feet while our amazing Bella Lugosi waits for the juice and starts a count down from ten to zero while he strokes. And then... It comes to a fantastic ending either way. Like we said, we hate spoilers!
---
Download MP4 FULL HD Version

Lesson For The Horny Slave Part 4
06:20 min, 443 MB, MP4 FULL HD
English Language
To download the clips simply right click into the thumbnail and choose "Save target as...".