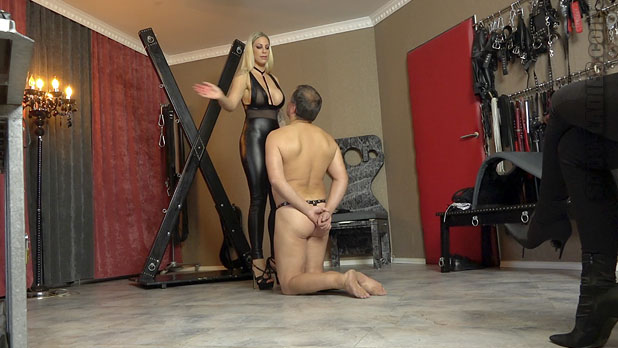 lets go on here with 3rd part of long husband and his wife feature starring brandnew mistress lady aurora nia noxx. in the first two parts we saw a wife bringing her husband to a dominatrix to teach him some lesson and to improve his manners and behavior.
in part three here the husband has to kneel in front of aurora and recieves more treatment. first the clamps are moved away. and whoever had some clamps on his nipples know that this is a very painful moment. next the slave recieving a bunch of severe slaps with bare hands, with gloves and with gloved hands. still not satisfied with the results the husband is misused as a kind of punching bag as he gets slaps and blows all over his body including his pathetic prick. the ladies are really enjoying this now and how the husband moans all the time in pain. it seems that the education bringing out first good results!
---
To download the clips simply right click into the thumbnail and choose "Save target as...".