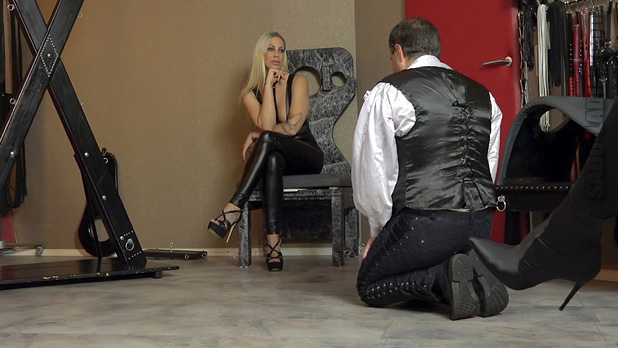 as we said already earlier, there will be new productions here on sadoladies and we keep our promise. and we are extremely glad to present a new mistress here with us: lets welcome german pro dom and adorable goddess aurora nia noxx!
some may know this beautiful lady already from our friends site femdomfoto.de where she already appeared for lots of phantastic sessions over the past years, but now she is also here with us and she is an incredible lady. very fluent with words, very humiliating and its so easy to see and to hear when she smiles and laughs that she really enjoys to inflict pain! and even her crystal clear blue eyes will bring any slave down to his knees in seconds. we start here today with a longer feature divided into single parts and a wonderful story. a mysterious lady is unhappy with her husband. he has really bad manners and a bad attitude and behaviour. as beeing a lil bit self reflected he aggreed that his lady brings him for a proper education to aurora. so in this first part here we see the beginning where he learns to worship the goddess, to be on all fours. he also has to massage the feet of the lady and all this happened while his wife watching all the time. but this is just the beginning. the husband has to learn a lot.
---
To download the clips simply right click into the thumbnail and choose "Save target as...".