Red Roses Red Ass Part 3 - BRANDNEW!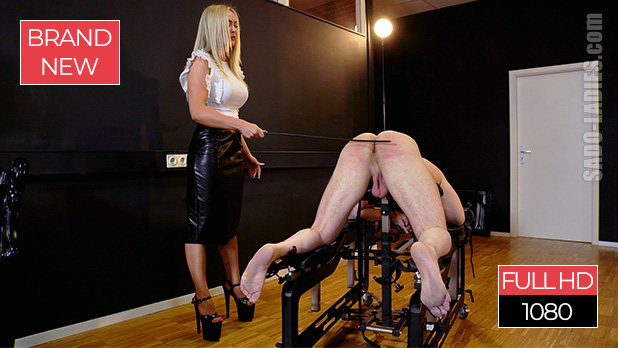 Roses are red, the butt is still pale. The dominatrix laughs and the slave is in hell. For such rhymes we have attended the Sado-Ladies word-finding academy for a long time. Others would apparently also wish they were somewhere else than waiting bent over in front of Lady Paulina Rouge.
She had set herself a goal early on. Color tone on tone with the roses to heave the slave's ass out of the studio. It hasn't been easy until now, although she has really pulled all the atrocities and brutality out of her sleeve. An improvement. Almost impossible... unless you are this Lady Paulina. What manual labor has not been able to do up to now can now be done with tools. Riding crops, floggers, canes? All means to an end. And the ass? He is slowly approaching the desired result! And the slave. He whines more and more quietly. Either he's enjoying it now, or he just faints every now and then. Color is everything! However, she has to be careful. The testicles slowly change color to a bluish purple. Anything but instinct is required here.
---
Download MP4 FULL HD Version

Red Roses Red Ass Part 3
10:28 min, 712 MB, MP4 FULL HD
German Language
To download the clips simply right click into the thumbnail and choose "Save target as...".