Ballbusting Fun - BRANDNEW!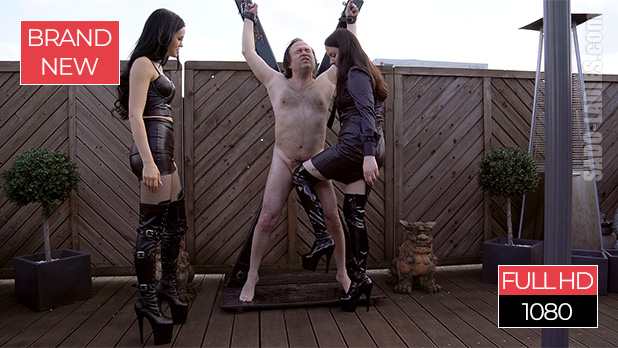 What brings 2 fantastic ladies a lot of fun? Ball games, of course. To be honest we are always far away from football, rugby or table tennis. Whereby the balls of the slaves are more like a table tennis ball than a soccer ball. But this is truly the state before the treatment.
After that, the small marbles are more likely to swell to the size of a melon. How is it possible to generate such growth in such a short time? We'd ask Miss May and Lady Jolie Berrie how that's done, but the risk of our sanctuary being kicked is too risky for us. So, let's look at the two from a safer distance and ... very important, learn and be amazed. Admittedly, you can cry a little when you see how the two of them, with their heavy boots and plateaus, repeatedly kick the little lout hard and repeatedly maltreat him with punches. Every square millimeter, to speak of centimeters, would be exaggerated, the cock and the junk are severely put through the wringer here. Every request, yes, every mere thought of redemption only leads to even harder processing by our two Graces! Only sweat and tears flow here. Drops of precum? At most at the top of the high heels.
---
To download the clips simply right click into the thumbnail and choose "Save target as...".