First Punishment Of The Day Part 2 - BRANDNEW!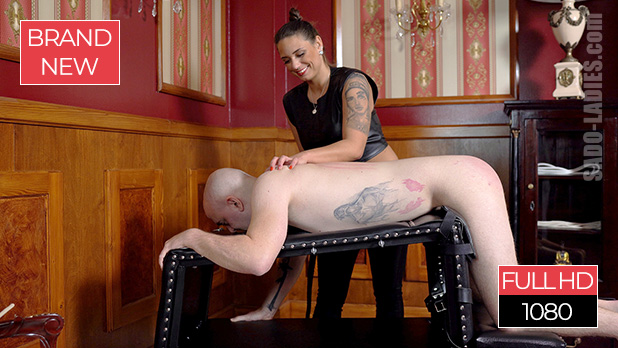 What a lovely atmosphere. You almost feel a little like the young Empress Sissi. Of course, we have also put an empress for you on the boards that mean the world. Certainly not that graceful. But just as quick-witted. Just worthy of an eminence.
But that's what distinguishes them from our dear Mänada. You don't know the lady yet? That can't be the case. If so, now you have the great opportunity to stand with her at the whip. Or, we are sure that it is more your thing to have your ass spanked with relish. Either way, a festival is to watch her at work. With a strong upper arm and an iron hand, the lady swings her selection of torture instruments. Graceful as if she were writing a book in the smallest of lines on the slave's bum. It's going to be a bestseller. After all, she makes her way through an unbelievable selection of sticks and whips. Crops and floggers. With the lines on the back, the slave can at least play Tic Tac Toe at home afterwards. And that's how we make them all happy in the end.
---
Download MP4 FULL HD Version

First Punishment Of The Day Part 2
06:57 min, 497 MB, MP4 FULL HD
German Language
To download the clips simply right click into the thumbnail and choose "Save target as...".