Severe Inner Thigh Punishment - BRANDNEW!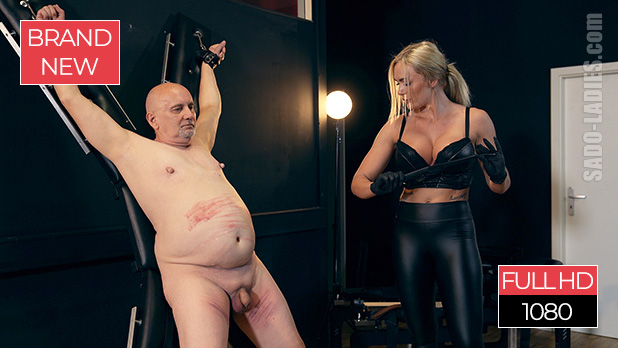 It's always exciting to watch when our great Lady Paulina Rouge prepares for a barbecue with slaves. Of course, these little gnomes are not invited to dinner. How would she do that? But preparation is always extremely important at such festivities.
The salads have to be prepared and the meat has to be headed tenderly. And this is exactly where the slave comes into play. Of course he doesn't pound the schnitzel. In this case, he serves purely as a training object. So, get the bacon and the runt beaten really soft. Of course, this works best with the right tools. And what belongs in such a dominatrix kitchen? Wooden and leather paddles as well as one or two small leather whips. After all, everything has to be soft and pink afterwards, in the case of the slave probably brighter red. Of course, sausages should not be missing. This specimen has a particularly juicy snag and of course this is also beaten hard. Of course, the question of drinks has also been clarified. Spit! That you still have to think about it?! At the end the loins glow blue-red and the slave only stands upright thanks to the St. Andrew's cross. But it's important that we're all sated in the end, isn't it?
---
Download MP4 FULL HD Version

Severe Inner Thigh Punishment
09:43 min, 678 MB, MP4 FULL HD
German Language
To download the clips simply right click into the thumbnail and choose "Save target as...".