Session With Iveta Part 5 - BRANDNEW!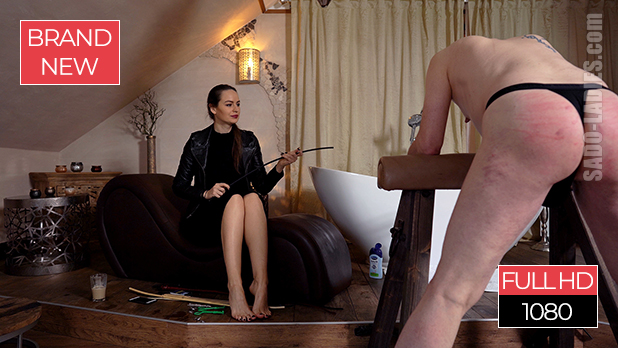 All of life is a lucky bag. All of life is a roller coaster ride. And all of life sometimes seems to consist only of pain and even more pain. Of course, it always depends on what goals you set yourself. Lady Iveta's slave seems to have big goals. He wanted to aim high and in the end? He fell deeply.
Almost on his knees. But a lot has happened on the way from the very top to the very bottom. This is the story of a slave who sought pain and found it in the end. Wait did we say in the end? Actually, from beginning to end, the pain had never really stopped. A tragedy for the slave a drama. A comedy for Lady Iveta and great cinema for the viewer. There are so many acts in this play. The old masters could take a lesson from it and learn from our Lady Iveta. So, she slowly builds up the tension, like in a horror movie. In our case in the form of a wooden paddle and a bamboo stick. The first murder then after a few minutes. Nipples ripped from life in a bestial way. And while the first people leave the cinema in a hurry, our Iveta gets ready for the next shocker. The brutal march with one bare and one clothed foot over the battered slave's body. The footprints left by the sneaker are like a trail of devastation. The sweaty footprints like a memorial to the things that are yet to come. Then a phase of rest and relaxation. Here not only the slave and our viewers have the chance to recover from the visual strain. Lady Iveta also seems to use this brief moment of relaxation to regenerate. While she's having her feet gently massaged with oil, she's probably already plotting the next nasties in the back of her mind.
---
Download MP4 FULL HD Version

Session With Iveta Part 5
06:22 min, 381 MB, MP4 FULL HD
German Language
To download the clips simply right click into the thumbnail and choose "Save target as...".