A Foot Massage and its Consequences Part 2 - BRANDNEW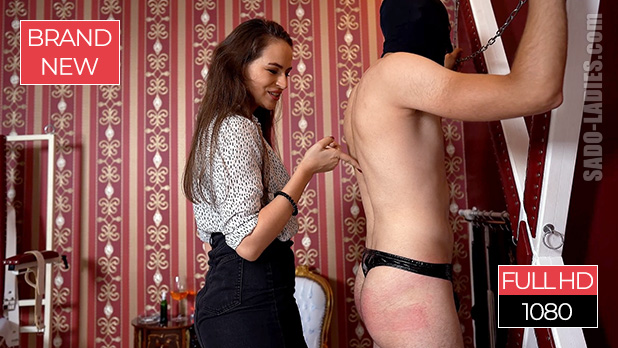 What do we have here? At first, we thought we couldn't just divide our Lady Iveta into three parts. After all, we no longer live in the Middle Ages. But then we thought the material was just too good for a single video. So, we oriented ourselves towards the size of the cinema and simply made a trilogy out of it. We affectionately call the masterpiece "A Foot Massage and its Consequences".
As in any good three-part suit, there are a ton of highlights. At least for our Lady Iveta. Because the way she lets her slave work her feet here screams for relaxation. And while he is working on her tender knuckles, she has a cigarette and a good wine. But we stay cinematic and so there has to be a twist. Somehow our stupid slave still manages to anger the master. Was it too much oil? Not gentle enough? Massaged too hard? Either way, our journeyman ends up at the St. Andrew's Cross. But what then rattles down on the poor man's ass in the great "Finale Furioso" is unparalleled even in the great masterpieces. Whips, crops, floggers, carpet beaters. It's epic. But you have to see it on your own. Just grab a box of "Flogg'rcorn", lay back and relax.
---
Download MP4 FULL HD Version

A Foot Massage and its Consequences Part 2
06:38 min, 479 MB, MP4 FULL HD
German Language
To download the clips simply right click into the thumbnail and choose "Save target as...".