Nylon Worship And Punishment Part 2 - BRANDNEW!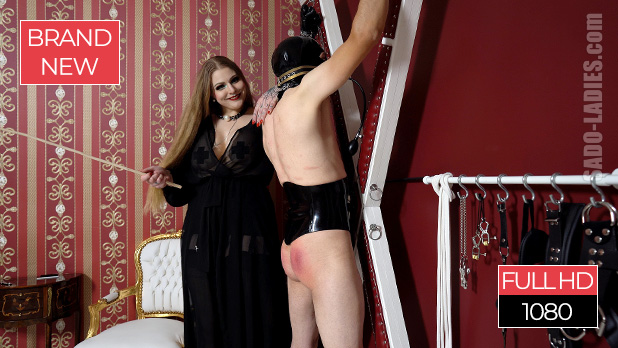 In fact, we didn't expect that at all. In principle, our Lady Selina Morgan is not a friend of being close to her slaves. The end of the whip should always be closest to the victim's bottom.
But that the slave is allowed to lick the salt out of the nylon is something very special. All good things in life have to come to an end. It can't go on like this forever. And the willing viewer knows that he will not miss out with us and that even the darkest souls will find satisfaction. Did we say satisfaction? We meant humiliation, of course. Needless to say, the St. Andrew's Cross is there for a reason. The slave's bare bottom also gives hope for "Finale Furioso". Once the wooden paddle has reached skin temperature, our Lady Selina Morgan really gets going! So get to the cross with the illustrious fellow and the ham softened. There is an end to every beginning, as one of our wisest copywriters once said. For sure he himself only read or heard that somewhere. They're not particularly clever, our nimble scribblers. But for 1-2 slaps a week they seem to do anything. But our Lady Selina Morgan is a completely different kind of caliber. She is practically a luminary in her field and a master at the paddle. Mind you, on the wooden paddle. Tradition has it that this paddle was carved from a slave's wooden leg. But that can only be sailor's yarn. But we don't want to get bogged down in all that. All that matters is what we see and hear. Spanking on the bare butt. So powerful that the slave's little cock happily slams against the St. Andrew's cross again and again. This results in a rhythm of its own. Are you wondering whether she will ever let go of her slave? After all, the slave's cheeks are already reddening suspiciously. But of course we answer relaxed. At least with the wooden paddle she seems to have knocked on the back door enough at some point. Time for another instrument and a faster beat. You conduct it with a stick, as you know. And here, too, she sets the rhythm.
---
Download MP4 FULL HD Version

Nylon Worship And Punishment Part 2
09:22 min, 665 MB, MP4 FULL HD
English Language
To download the clips simply right click into the thumbnail and choose "Save target as...".