Nylon Worship And Punishment Part 1 - BRANDNEW!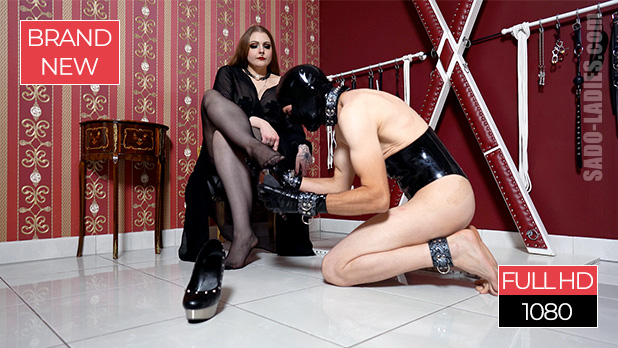 We're not quite sure what to call this new masterpiece by Lady Selina Morgan. But we are sure about the fact that it will be a fantastic 3- episode series. Like a pain trilogy or something like that. But like any masterpiece, it all starts out harmless. Did we say harmless?
This woman expresses everything that constitutes pain and suffering through her sheer presence. You would look it up in a dictionary and pain. Well, you know. But how do we best describe what awaits you in the first part without revealing too much? We could talk about the nylons, this scantily clad mistress in a tad nothing, or this slave wrapped in latex like the euro cucumbers in the supermarket. Basically, it begins gently like a summer rain with kisses on the mistress's thighs and feet. But the expression on Lady Selina Morgan's face suggests that the summer rain is about to grow into a bigger storm.
---
Download MP4 FULL HD Version

Nylon Worship And Punishment Part 1
09:32 min, 678 MB, MP4 FULL HD
English Language
To download the clips simply right click into the thumbnail and choose "Save target as...".