Cruel Double Boot Domination - BRANDNEW!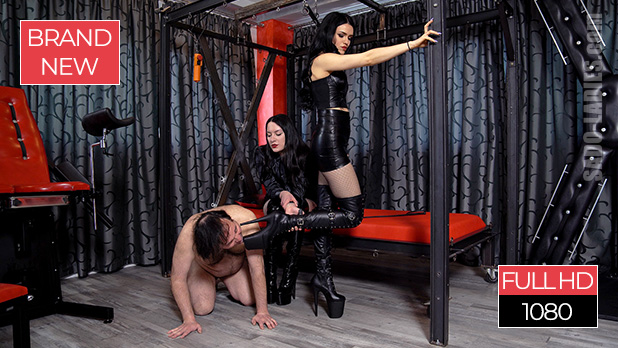 Welcome to another lesson in the math of pain! First of all, let's start with a very simple task. What is 1+1? Correct. humiliation. As we can see you have been a good and attentive student lately. Keep it up.
But now we are curious to see if you can also solve the other, more difficult tasks. What is the result of 2 dominatrixes and a slave? Exactly. Basically one more. Unbelievable pain. And if you now subtract consideration and compassion, what do we get? Correctly. Miss May and Lady Jolie Berrie! In their latest masterpiece of submission and humiliation, the two go to the limits of what is reasonable. As her slave threatens to drown in volleys of spit, he is subjected to relentless kicking at his puny crown jewels! No wonder, because these stilettos are just begging to be used. High heels were yesterday! Today, heels are just weapons! There is choking, swallowing, struggling to breathe and deepthroating their heels almost to the point of unconsciousness! All this paired with lots of bare skin, leather and latex! If you haven't had your hand in your pants yet and begged for redemption, you'll get the really big cinema here!
---
Download MP4 FULL HD Version

Cruel Double Boot Domination
15:10 min, 1,08 GB, MP4 FULL HD
English Language
To download the clips simply right click into the thumbnail and choose "Save target as...".